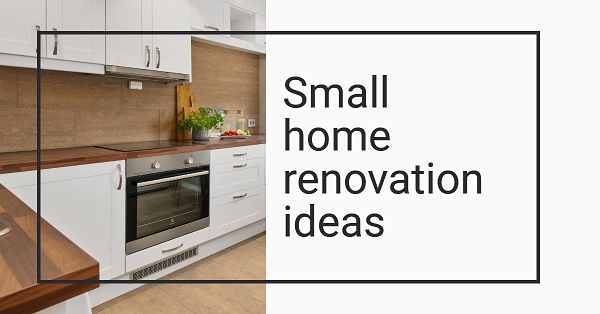 Small home renovation ideas are helpful when you need a change without a complete overhaul. There are many projects you can choose from to improve your living space, whether it be building a walk-in closet, adding a kitchen island or changing light fixtures.
If you're in need of some ideas for a small house renovation, here are some ways to get started:
Open the floor plan
Interior walls divide small rooms and can eliminate many useful storage and circulation features. The same applies to kitchens in older houses, where the rooms were once thought to be isolated from the living room.
In case the kitchen and dining rooms adjoin each other but are separated by a wall, try removing the wall to open the space. In living areas close to the kitchen, the wall can be removed, so there are greater connections within each room of the home.
Removing walls can also help exterior window lighting in a wider area and improve the house's overall appearance.
Repurpose unused or underused space
If the rooms in a small house don't have any particular function, think about repurposing them. The next step is reviewing the building process for the potential to increase the size, which will help you create additional space.
Some places with great opportunity for improving usable space are the garage, attic or basement.
Revamp a closet
Closets are incredibly important in daily life, so why not make them the best they can be? Simple DIY wardrobe revamps can improve your efficiency and allow for better storage.
Start with removing everything in the closet and replacing the interior walls with colorful patterns and colors. Choose functional items which offer multiple storage options, such as hanging shelves, storage boxes or drawers.
Incorporate banquette seating
For a practical and economical kitchen renovation, increase the size of the room by adding padded banquette chairs. Banquettes are a good way to save space, since most include built-in cupboards and storage cabinets. Add banquette seating to your island and transform it into a comfortable room for you to enjoy a quiet meal with friends.
Use built-ins where furniture would be too bulky
Functional storage spaces are essential for the small house. Built-in systems are designed to maximize spaces where furniture is inaccessible and can be customized according to room requirements.
Shelving under the wall is the best solution to create optimum storage. Cabinetry is an excellent way of containing items, and it also keeps the home clean and tidy.
Add a sliding barn door
Using sliding barn doors for a hidden storage space in a dining and kitchen area makes for a beautiful and functional solution for your home interior. These sliding doors can be easily installed and even made DIY.
Choose a design that will add to existing accents of the house. Or, paint your sliding door in a contrasting color to add drama to the room.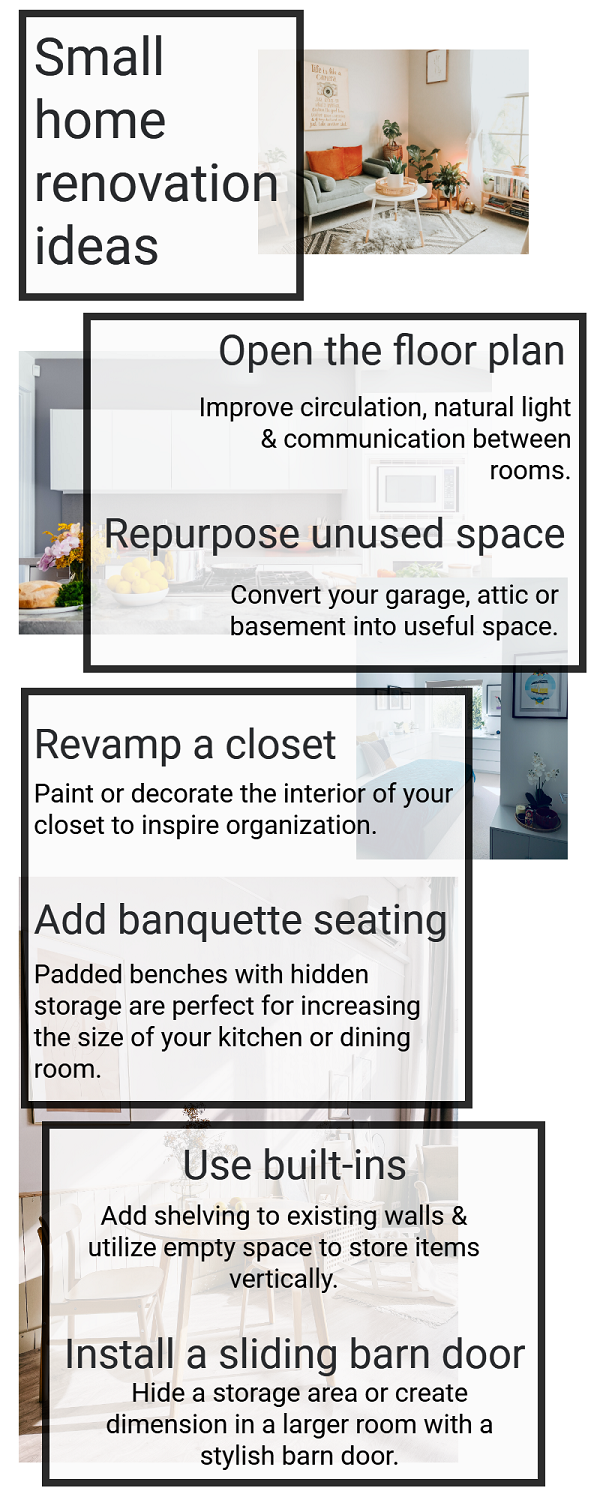 These are only a few ways you can upgrade your interior space without going overboard on remodeling. Whether you want to create more space or add better functionality to your home, these project ideas are the perfect way to begin.